NEWS
Copyright © 2016 BelvoirDMS.org • All Rights reserved • E-Mail: ray.chapman@gmail.com
In Retirement
---
---
---
---
A Farewell Retirement Note from Dave Pedneau
Dear friends, Friday (10 Jan 2014) is my last day at NGA, yes I am finally retiring. I wanted to get a quick note out to all of you and send along my heartfelt thanks for all you have done to make this journey both rewarding and memorable. How proud I am of all of you and what you do to keep our nation safe. Your commitment, your drive, and your determination have always been apparent as we worked to ensure that we provide the best support we can to those who depend on us. Having been fortunate enough to have had an earlier career in the Navy prior to my civilian service I assure you that the things you do really do matter ... a great deal! For me, it all started in 1968 and it has been a whirl ever since! I wish each of you nothing but the best and want you to always remember how important you really are. Your friendship, your wise counsel, your candor, your untiring dedication, have both inspired me and at times challenged me - all in a most positive way! I know absolutely that I am, and will remain in your debt for I know I have truly received far more from you than I have given in return. With that said, I ask for one more favor please! If you see one of our friends missing from the list above,
(-----I lifted this from a Jack Batt E-Mail that listed many of the old DMSer is the list Dave is refering-----)
kindly send this along to them and tell them it is just the result of Dave's poor memory again and nothing more. Time flies when you're having fun and being with all of you has definitely been a real joy! It has been a distinct honor and privilege serving with each of you. May you always encounter fair winds and following seas. May God bless each of you and your families, just as he has for Janet and I. I will miss all of you terribly." Dave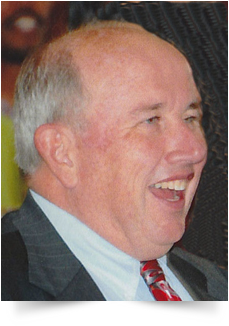 Mark and Barb in Florida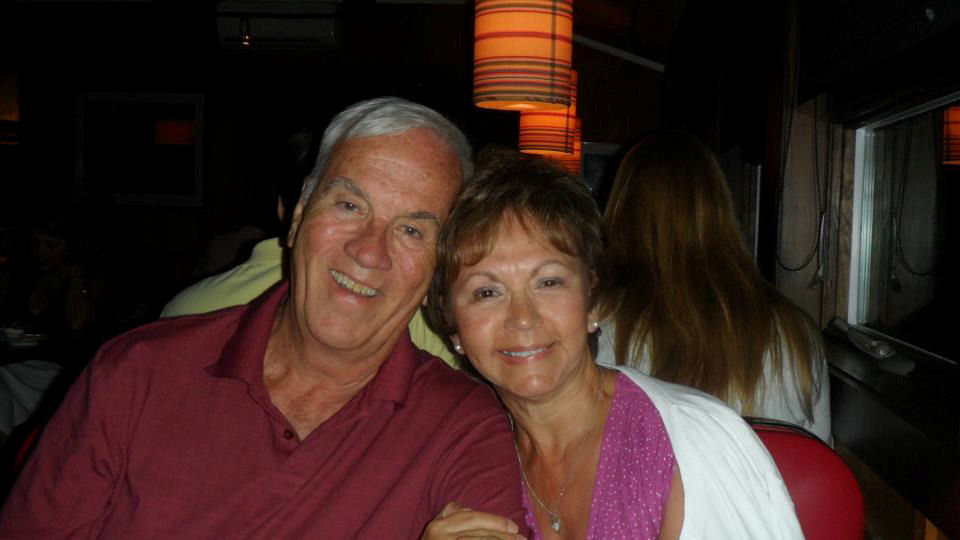 Are they happy or what --- E-Mail information on our contact page
JD Christams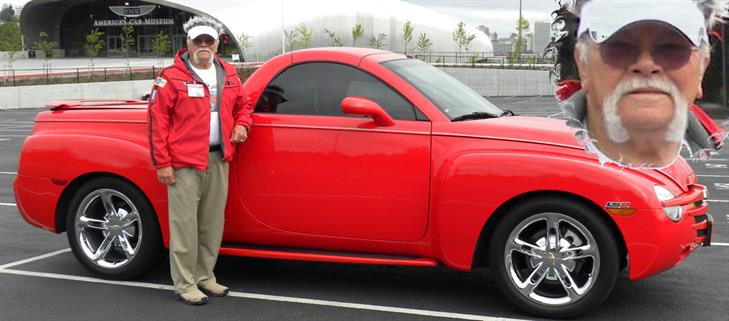 JD stepping up in the sports (Truck) world. 2005 Chevrolet SSR, 400HP LS2 Corvette Engine in the Only "Retractable Hard Top" production pickup made! WTG JD - Love the new spiked hair!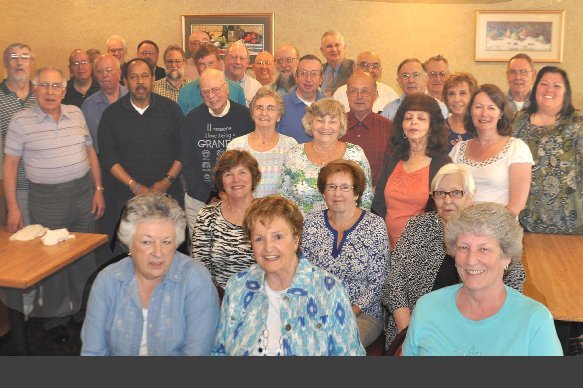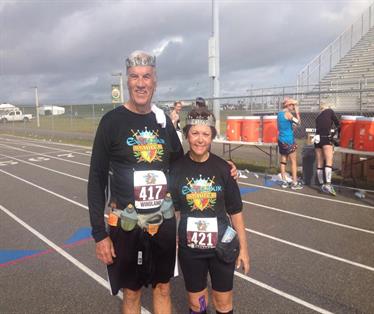 Hello dear friends from ETL-TEC
Men and Ladies Group April 2013 You may recognize several old friend in this ETL picture BUT if not you most certainly recognize COL Maune. back row - Paul McCracken, Dick Marth, Fred Gloeckler, Bill Roper, Don Davis, Jack Bondurant, Dick Hevenor, Bruce Zimmerman, Harold Nelson, Dr. Jim Shine, COL Dave Maune, Sam Barr, Bob Pazak, Jon Sellin, Walt Boge 4th row - Joe DelVecchio, Gene Margerum, Ted Howard, Al Elser, Verner Guthrie, Tony Hawker, Charlotte Lemen Bell, Darlene Shepherd 3rd row - Betty Alzamora, Polly Moore, Joyce Truitt, Ronaly Lichtenfels 2nd row - Carol Lichtenfels, June Jamieson, Fran Carter front row - Marcia Parmelee, Marcy Bowker, Martha Bishop
---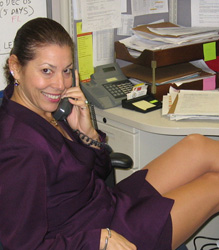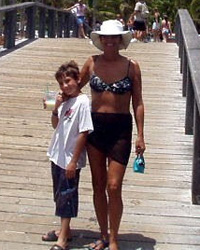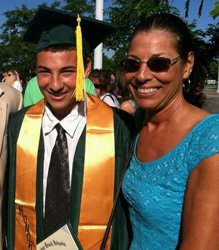 Karen Sain (Kando) Dec 2005 at Naval Station Norfolk, working for the Navy as a GS. Karen was at DMS both as a student--MC&G course from Jan to Apr 1981 and as permanent party, from Oct 92-May 95: She was an Assistant Dept Head (Survey Dept) to COL Sanford (Geophysics Dept). Before that she was in the Joint Div and taught MC&G and Cartography courses.
Karen with son in 2004 enjoying the sun and fun of the Bahamas
Karen in 2012 ---- Ooooo happy days to have son graduating HS

Karen is not just extremely intelligent with a pretty face and great legs, but a retired and highly revered Engineer LTC...for my generation, LTCs looked more like gruff 1SGs or seedy cooks, rather than a silver-screened starlet. Thank you, Karen.
Karen Sain (Kando)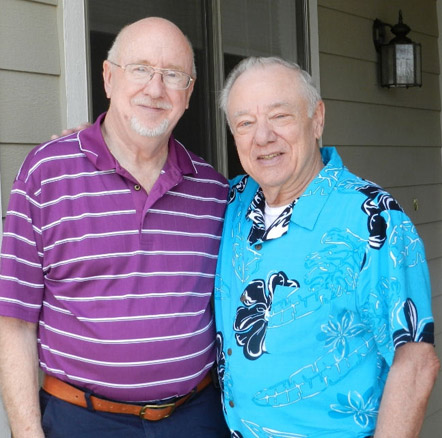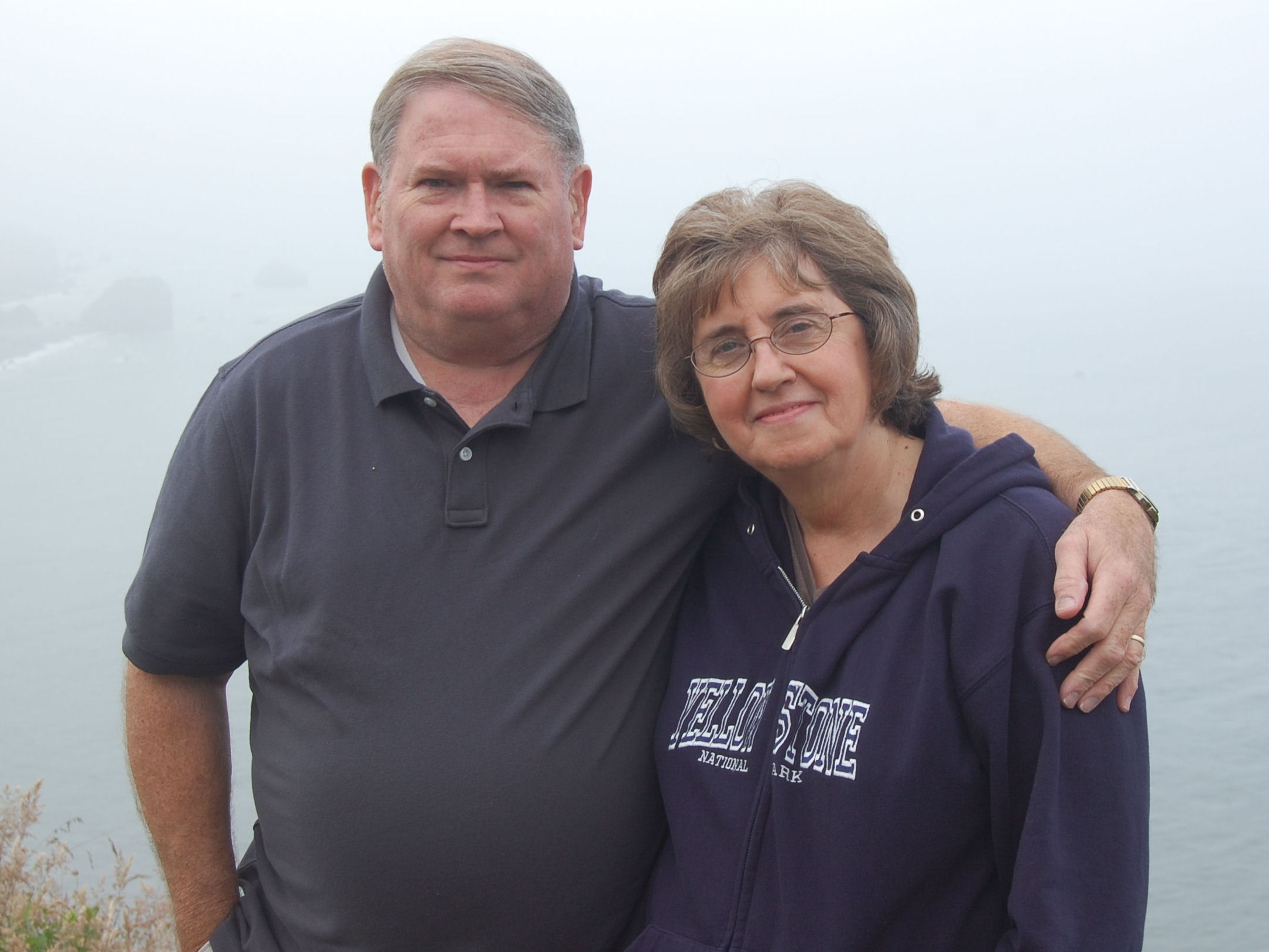 July 2012 -- Boomer visiting Jim in Prescott Arizona. Boomer lives in Berkely WV.
July 2012 - Jack and Mary in Northern California in the Avenue of the Giants (300' tall virgin Redwoods) on their summertime 8,561 mile trek from Spotsylvania Virginia to the West coast all in one of his reliable VWs. Go Jack!! In retirement Jack has had eye surgery on both eyes, had his Flea market booth robbed and had stolen a LOT of merchandise. The bad guy was caught but not all the goods have been recovered...yet.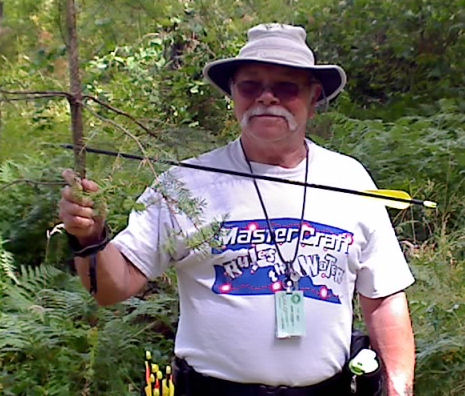 John gave up his "gun" shooting this last week-end and tried his hand being Robin Hood - He bagged his first Christmas Tree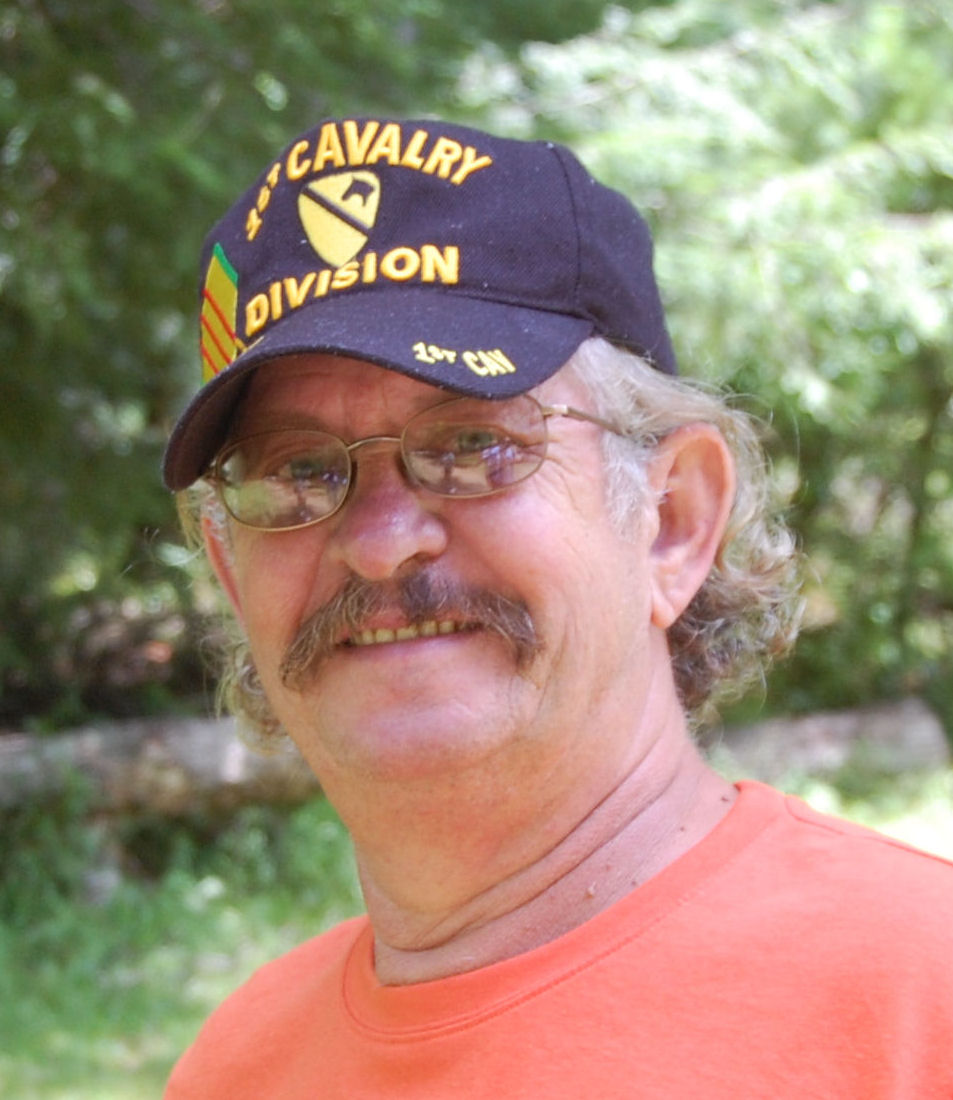 Jerome "Andy" Anderson, retired Army and civil service. He is living in Marion North Carolina. This image was taken at The Great Smokies National Park in Tennessee. circa: 2012
---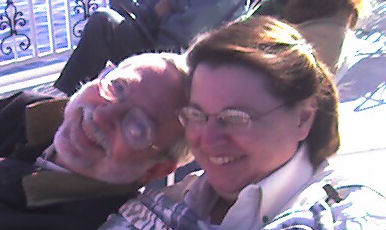 Bruce Porter --After a USAF retirement Bruce used his experience in Instructional Systems Design, training, technical writing, systems and software engineering, cryptographic systems and Global Positioning Systems as a civil servant in DMA & NIMA followed by work in the Phoenix area. Here's Bruce and Laurie, his bride of forty years that now in full retirement will be doing what he / they have always wanted -- to cuddle more.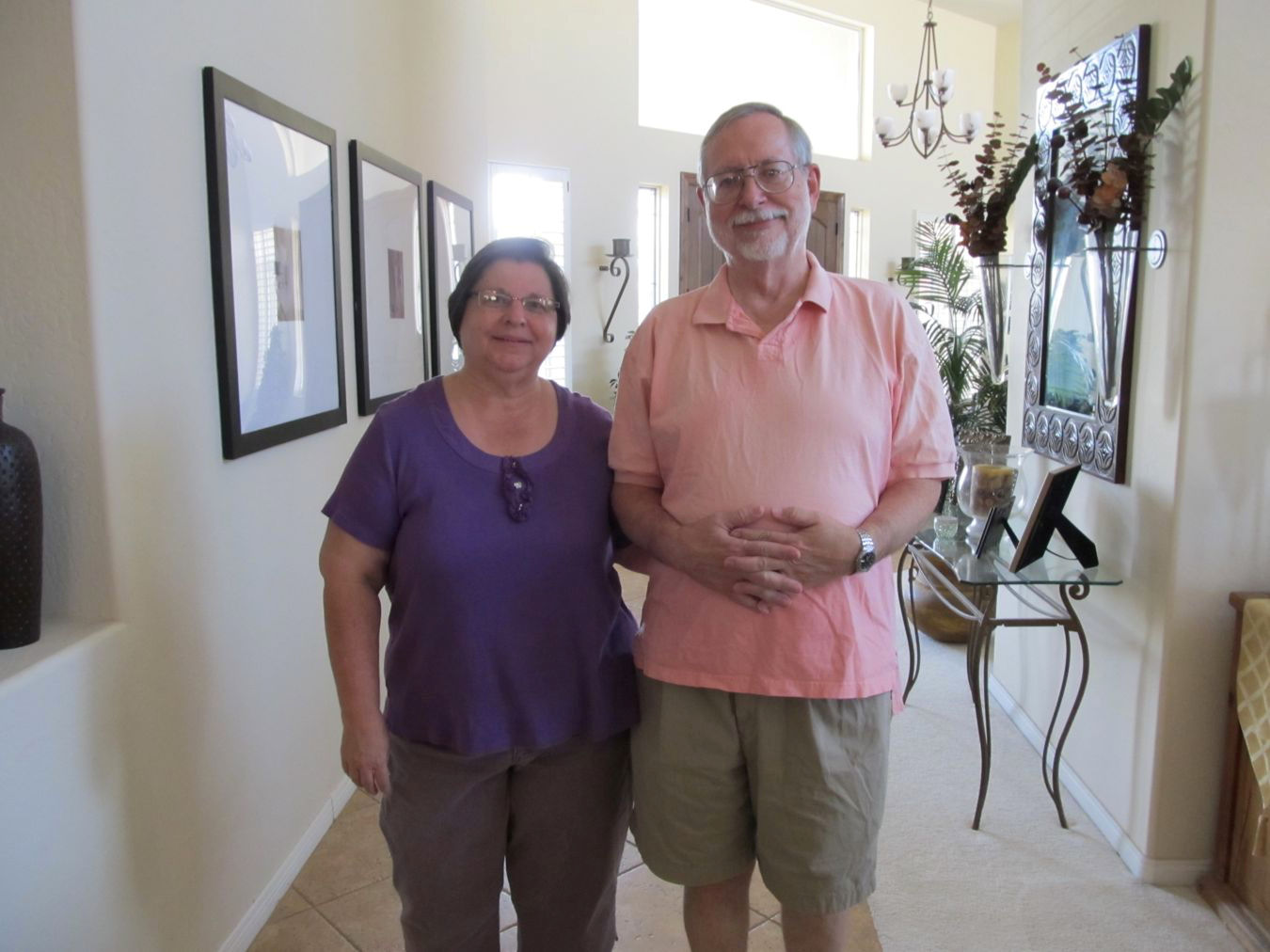 Laurie--Unfortunately not all retirement time can be spent cuddled in Tahoe so they do work together in a beautiful and most comfortable home in Fountain Hill, Arizona. Ask me if I'm happy??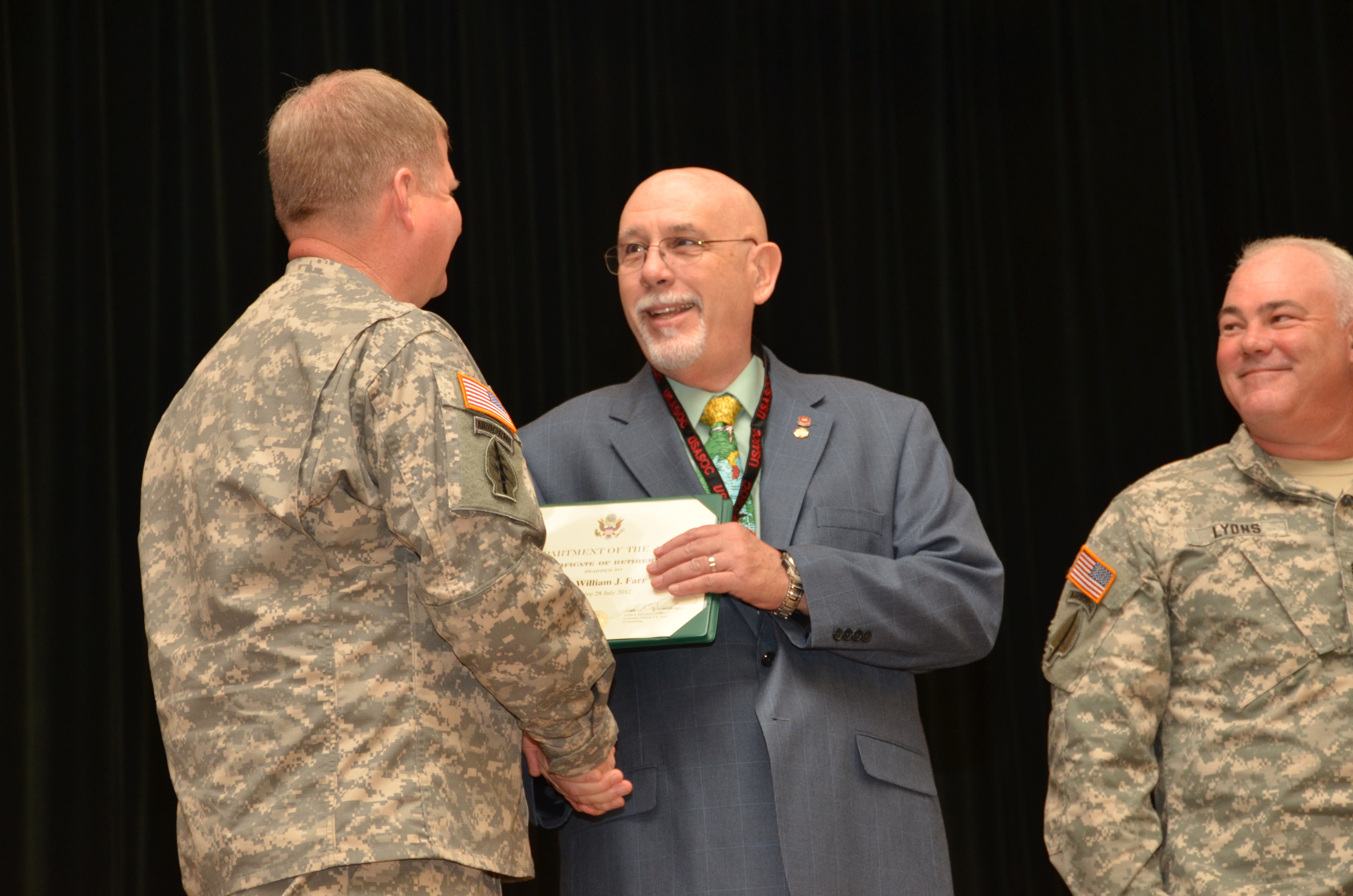 ---
Bill Farr --Recent (2012) civil service retirement with the new USASOC commander LTG Cleveland doing the honors. CSM Lyons assisted.
---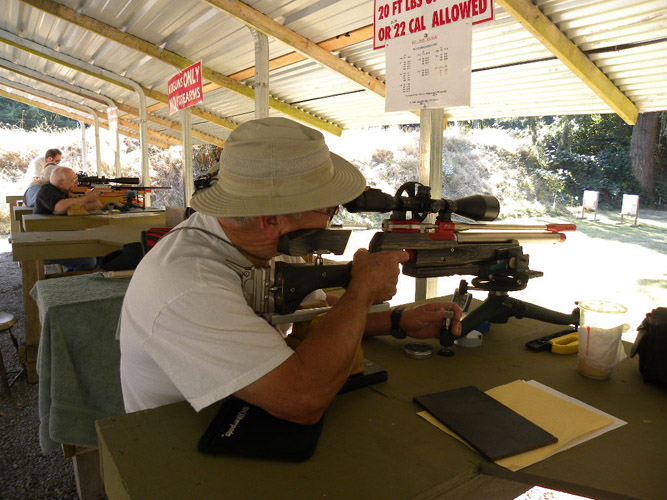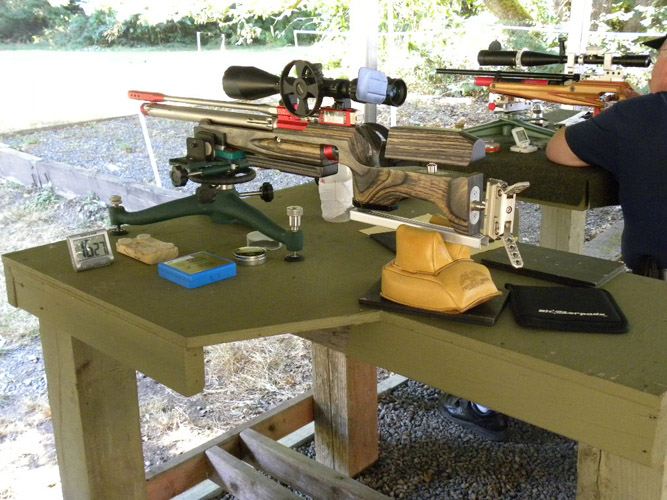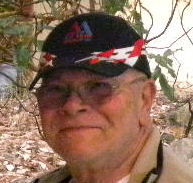 John Dodge
John Dodge was the schools SGM in 1988 to 1990 and a person of many talents and 1000% self-confidence in anything he choose to do. "Shooting" Large bore sniper rifles to High-tech and I mean very High-tech shooting of Air-pistols and rifles. I have been on many rifle teams both military and civilian but I got to tell you, anytime you can master the sport as John has and shot the kind of perfect to near-perfect scores as he has you can't fully understand and appreciate self discipline and dedication required to be at his level of competition. If there is any question here, just ask yourself how many Majic Pellets and how many Golden Cusidors do you have??
---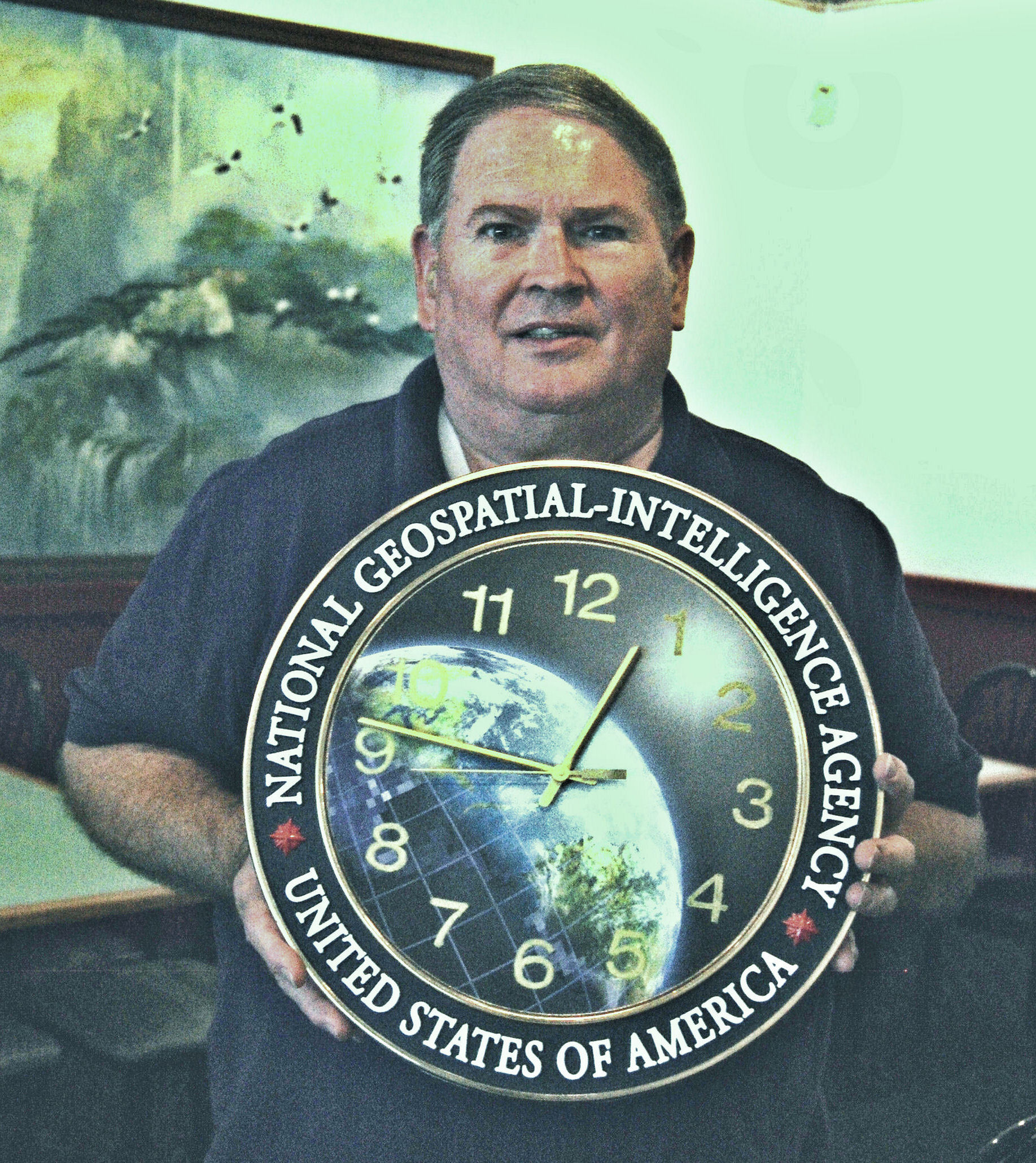 The pained expession isn't related to the image. There really isn't anything wrong, Jack is just saying "...hurry up with the picture, this clock is heavy..." and that he is still retired, still hawking at the Virginia Bazaar Flea Market, and still trying to round up old DMSrs
---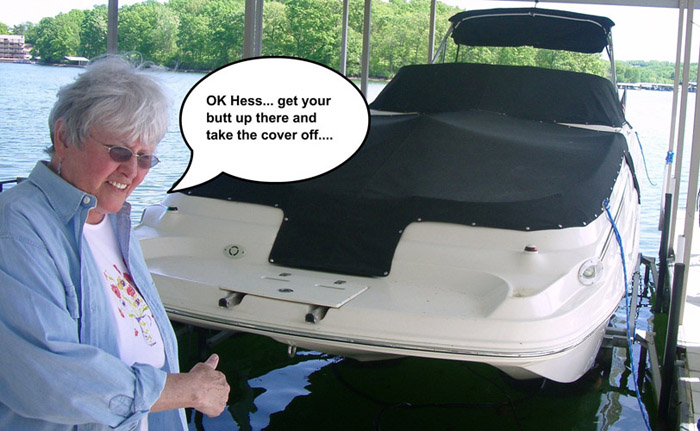 Harold Hester (Hess)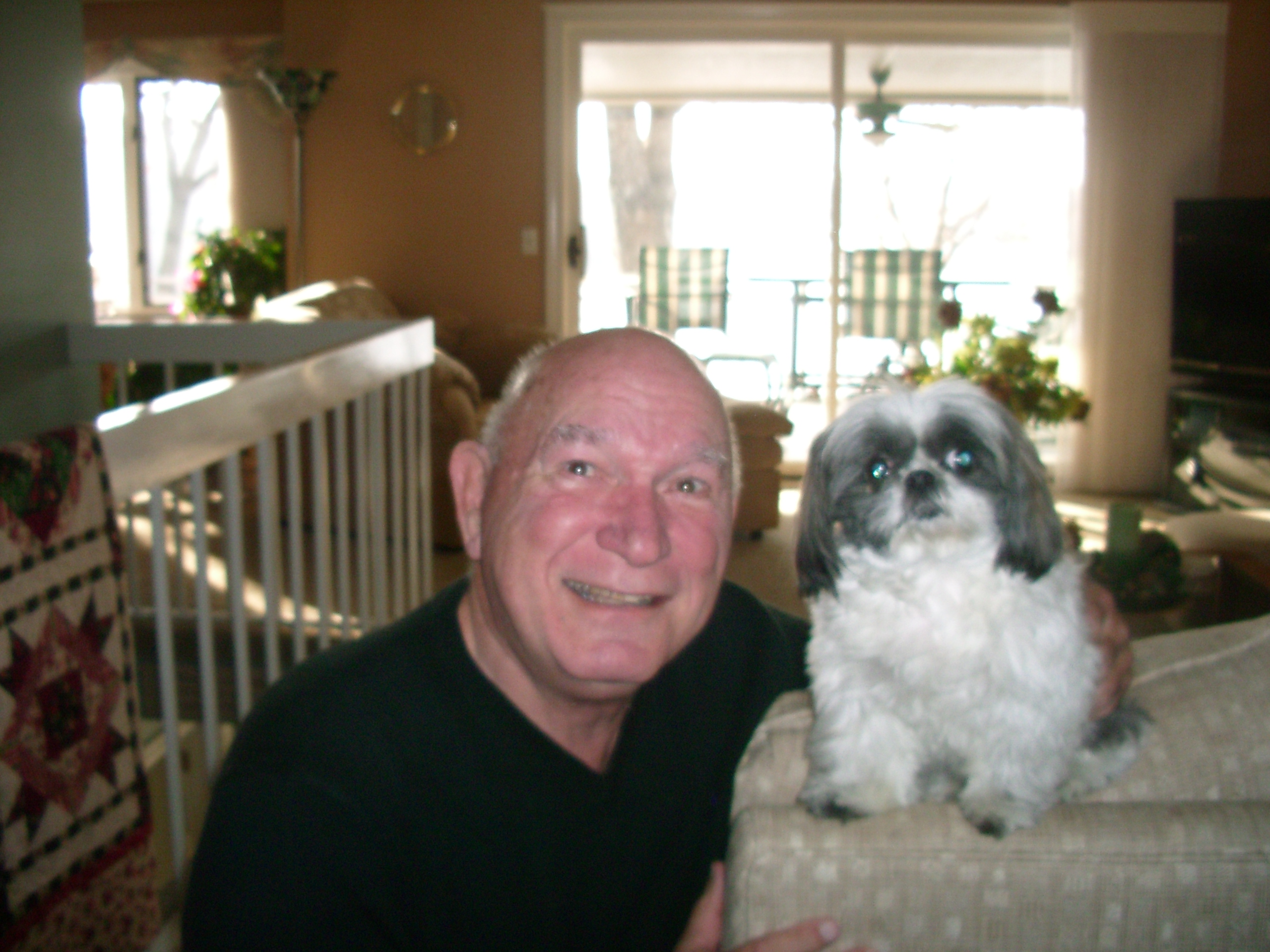 I don't take "away" vacations any more says Hess - After retirement I moved to The resort area of Osage Beach on Lake Of the Ozarks in Mid-Missouri where I have a Boss, a boat, a jet-ski and a computer.
This is the Boss - Annie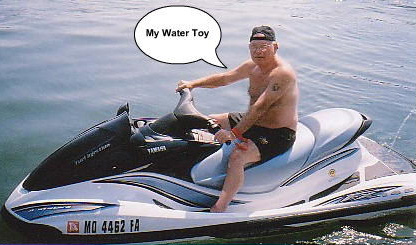 ...and I have a HUGE lake with 1100 miles of shoreline to patrol - Life is good
---
---
---
---


Dana Reeves Retirement
On 24 April the Agency didnít really know it but they ushered out an era. When Dana Reeves retired after only 39 Ĺ years of Federal Service he took with him the title of Sole Printer Survivor. Some years back in anticipation of NCE starting up in Springfield the Agency moved its printing mission to St Louis. Most of the printers moved with them. Some did not. Dana was one of the few that stayed in the area and was reassigned to our School. His retirement this past month meant that all the Agencies printers are gone from Springfield. For those of you that donít know Dana you missed a fine gentleman. His versatility within our School and the Agency has been matched by very few. Recognizing the demise of the printing profession Dana cross trained within the Geospatial community and became an outstanding instructor in GEOINT related subject matter. As a side line Dana is a Civil War Re-enactor for the Union Army. Congratulations Dana - no excuse to miss our lunches or dinners now!
---
Jack Batt checking out a Duce-and-a-Half tactical personnel carrier. His pre DMS Army employment was as a driver of the same. Jack tells us the owner was going to let him drive it a bit around the parking lot but evidently the seats are now closer to the driver and the steering wheel bigger so my stomach rubbed the steering wheel. Then I was not able to raise my foot off the accelerator onto the brake without hitting the steering wheel with my knee. So I didnít risk eradicating cars, light poles or flea market set ups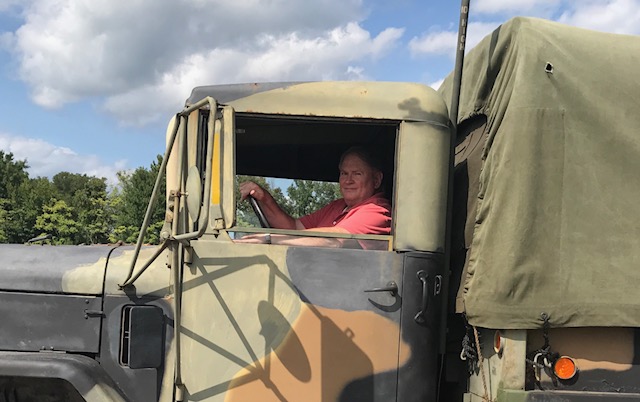 ---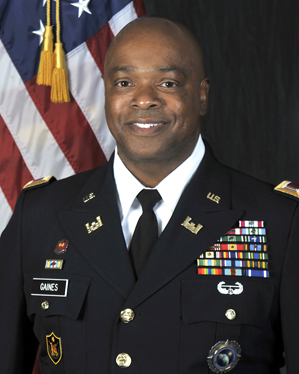 Russ Gaines, announces retirement on 16 March 2018 after 38 years of service in the Army to our great nation. Russ, a Chief Warrant Officer Five, is a power horse in our Geospatial Intel field I am positive all of our T3 community wishes him the best. Great career Russ, great career! Thanks for ALL you have done!!

See complete BIO.
---